Does Everyone Want a Work-From-Home Position?
I had a conversation with an insurance agency today about their interviews for account management openings. One of the challenges the VP put like this: "It seems everybody wants a remote, work-from-home position – especially young people."
I thought about how helpful our discussion from that point forward might be for other companies fielding similar requests.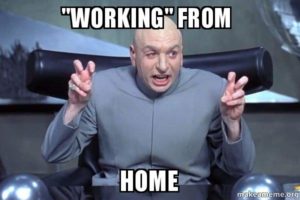 FIRST, there are generational differences, but that doesn't mean all millennials want to work from home. Be careful not to stereotype a request or turn it into a misconception of poor work ethic. Embrace the question without judgment.
SECOND, college grads and young professionals are used to being connected in ways that make four walls and a desktop seem less important than to older employees.
THIRD, regardless of age, a lot of candidates don't see the harm in asking. Stigmas about remote positions dwindle every day. Employers have conditioned people with flex time and login capabilities to work anyhow and anywhere its required. Work-from-home and long-term contract assignments are the next logical step.
FOURTH, and perhaps most important, remote employment is not as prevalent as you might think. Consistently working outside the office is still authorized on a case-by-case basis for a lot of insurance agencies. Keep all questions or future company flexibility in perspective.