Yes. Yes. Yes, a million times over. A thank you email is the minimum and expected. The handwritten note or card is a lost art. The tendency in an email is to write too much or ask lingering follow-up questions. The gesture of a thank you card sent through the mail is more of a true sign of gratitude. You expect nothing in return other than the good vibes that it creates when the reader opens up that card and sees your name on it.
This time of year many people find themselves contemplating what they are grateful for... Good health, good family, good friends, good job, and much more. When you reach out to those around you to express gratitude, you are not expecting anything in return, right? The same principle applies to sending a thank you note to an employer you just interviewed with and/or an individual at that company. If you can even personalize it in relation to something you learned about them during the interview, that just sets the bar even higher!
I recently received an email update from a candidate after starting a new job. He was thankful for all we had done in the job interview process and ended the message with asking me about something personal that we had discussed 2-3 months ago. It impressed me that he remembered that little detail. While not much time may have elapsed from the job interview to thank you note, the idea remains the same. You show that you actually listened and paid attention to the little details during a conversation. Sure, you can mention these things in an email as well...but I always recommend keeping those messages short, sweet, and to the point. A thank you card is a personal touch.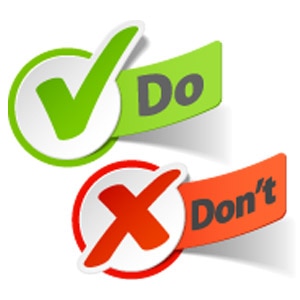 DOs and DON'Ts as you prepare your notes:
DO...Hand write the note, as well as the address on the envelope.
DON'T...Go too fast and use terrible handwriting. Especially inside the card. If the recipient can't read what you wrote, that is not good.
DO...Purchase a card at a store.
DON'T...Make a homemade one with your children's crayons or print one up at home with a cheesy picture on the front.
DO...Send in a timely manner.
DON'T...Send two weeks late and apologize for how long it took.
Remember that this is not rocket science. Nor do you want it to be. This should be seen for exactly what it is: a gesture of goodwill and gratitude. This is NOT going to get you the job. You still have to be good at what you do and have had success in the job interview process, but if there are several candidates early in an interview process that are all thought of highly, this could certainly be a tipping point where you can set yourself apart with a professional thank you card, a few minutes of your time, and an investment of a stamp.
---